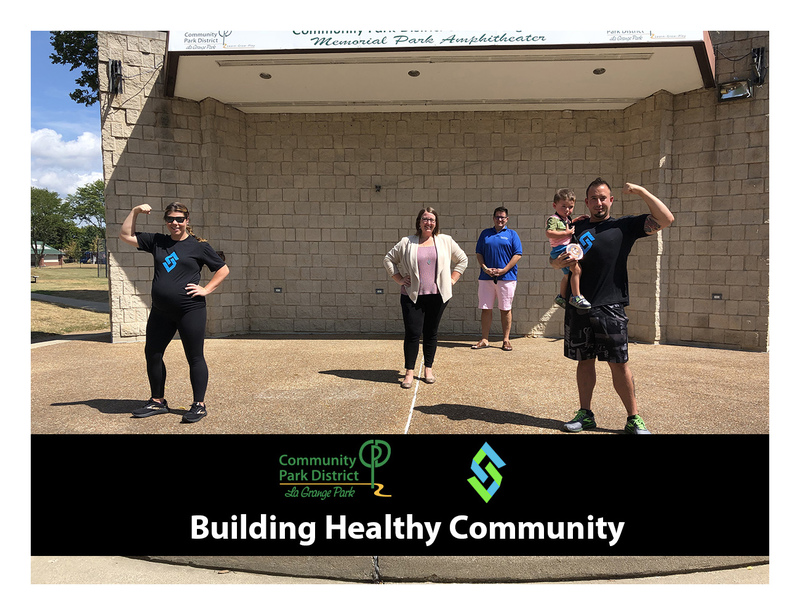 Building STRONG Community

Community Park District and Strive 4 Fitness Work to Bring Innovative Fitness to La Grange Park
September 15, 2020
Almost eleven years ago, fitness guru Shawn Groll strolled into Memorial Park with a vision of helping people achieve better, healthier lives. By 2013, his unique, community-oriented approach to fitness attracted a passionate group of participants dedicated to his outdoor bootcamp.

By 2016, Shawn and his wife Victoria opened their first boutique fitness studio in Brookfield and their business-model of caring, holistic fitness attracted more members than their tiny location could accommodate. Since then, Shawn and Victoria have opened three additional studios -with their largest one opening on August 17, 2020, right here in La Grange Park.
Amid expanding their business and managing the complications arising from a global pandemic, Shawn and Victoria were approached by the Community Park District of La Grange Park's new executive director, Jessica Cannaday. Over the past year, Cannaday had been looking for new ways to provide programming to the community, was tightening up the park district's park usage and rental procedures and was also navigating immense financial fall-out from the pandemic.
"I was really impressed with their messaging, and I just knew that there was a way we could support each other in creating opportunities for the residents of La Grange Park to live healthier lives," said Cannaday.
Strive 4 Fitness and the park district scheduled a phone conference. In less than 30 minutes, there were dozens of new ideas on the table and some big plans began to form. When Shawn learned that COVID was forcing the park district to consider returning a $30,000 grant to install a new state-of-the-art outdoor fitness court in Memorial Park, it sealed the deal.
"We know 2020 has been a rough year," said Shawn, "but in so many ways it's been great for us. We wanted to make this outdoor gym a reality for La Grange Park."
On September 1, 2020, the Community Park District and Strive 4 Fitness solidified a partnership that would provide new fitness classes and events through the park district. Strive 4 Fitness also committed to participating in annual park improvement and beautification projects to make Memorial Park the best it can be; and last, but certainly not least, Strive 4 Fitness pledged $25,000 to help the park district install the new fitness court in Memorial Park.
The Fitness Court is the nation's most innovative outdoor gym. It was designed by the National Fitness campaign to provide a seven-movement, seven-minute system that allows you to use your own body weight to get the perfect workout. This new outdoor facility will be free for the community to use. "This really is a partnership that is designed to build a strong community from the inside out," says Cannaday.
The Outdoor Fitness Court will be installed as part of a comprehensive capital improvement project that addresses the last piece of Memorial Park that has yet to be improved, which was officially approved at the regular meeting of the Community Park District of La Grange Park on September 14, 2020. The scope of the project includes improvements to the existing tennis courts and renovating the multi-purpose court to include two pickleball courts, the National Fitness Campaign Fitness Court, and a multi-use activity area.
Aside from these improvements, residents can look forward to and increased number of fitness programs and new fitness-related community special events.
The Community Park District is currently selling Strive 4 Fitness Punch Cards and Bootcamp passes through its website. For each card sold through the park District, Strive will donate an additional 50% of the proceeds to support the project. Buy a April Bootcamp Pass Now! Buy a Strive 4 Fitness Punch Card Now!
In return for their generous support, the Community Park District is proud to call Memorial Park the "Home of Beast Mode," and will host Strive 4 Fitness boot camps and events at Memorial Park. You can view a full calendar of Strive 4 Fitness classes, including the ones available right here in La Grange Park, at https://strive4fitness.us/.
Join us for Strive 4 Fitness' Ribbon Cutting on September 18!
8am-12pm | 712 E. 31st Street, La Grange Park
For more information, visit https://strive4fitness.us/
Building Healthy Community
August 28, 2020
The Community Park District is thrilled to announce an innovative new partnership with Strive 4 Fitness! By supporting each other, Strive 4 Fitness and the Community Park District will provide incredible new fitness opportunities designed to improve the overall health and wellness of La Grange Park and surrounding communities. Right now, when you purchase a Strive 4 Fitness 30-day Unlimited Bootcamp Pass OR Punch Card through the Community Park District, Strive will donate 50% of the proceeds to help improve the outdoor amenities in La Grange Park to help keep you and your family fit and active.

Buy a April Bootcamp Pass Now!